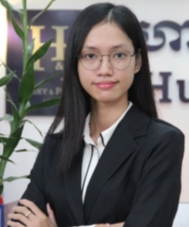 Pisey TEANG, Legal Assistant
Pisey holds her bachelor degree of comparative French and Cambodian laws from University of LUMIÈRE LYON 2 relocated at Royal University of Law and Economics (RULE). She is currently a student in master degree of International comparative law & International business law in University of LUMIÈRE LYON 2 and PARIS II, relocated at RULE.
Prior to joining Husky & Partners, Pisey first worked as a legal intern at Anti-Corruption Unit in Phnom Penh. She speaks Khmer, English, and basic French.