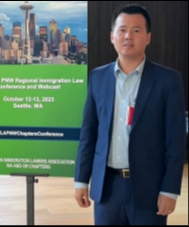 Sereyrath KIRI, Attorney at Law
Sereyrath KIRI (纪国平) has legal experience in Cambodia and the USA. He was a member of the first Cambodian team to join the Willem C. Vis Moot International Commercial Arbitration in Austria in 2010. A member of Cambodian Bar Association and New York State Bar, Mr. Sereyrath holds a master degree of laws (LL.M) from University of Washington, Seattle. Also, Sereyrath is a commercial arbitrator registered with the National Commercial Arbitration of Cambodia (NCAC).
Currently he teaches corporate, security, and contract laws at Royal University of Law and Economics. He speaks Khmer, English, Mandarin, and basic Thai.
Prior to founding the firm, he worked as a legal advisor at a leading regional law office in Phnom Penh providing legal advice and assistance to local and foreign investors across multiple practice areas including:
- Real estate and construction: drafting various real estate documents such as lease, sale and purchase, mortgage, and construction agreement. Advising on property transfer process, land due diligence, title conversion and consolidation. Preparing applications for long term lease registration, hypothec registration, and construction permit.
- Corporate and commercial: assisting in corporate matters such as doing company registration and dissolution, share transfer, and corporate compliance with Ministry of Commerce, General Department of Taxation, and the Council for the Development of Cambodia. Applying for specific business license from some ministries and authorities. Drafting memorandum of advice and legal opinion on various corporate matters.
- Banking and finance: drafting financial documents such as loan, guarantee, escrow, and other security agreements. Advising on banking and microfinance license applications.
- Citizenship and immigration: advising and assisting clients on their Khmer citizenship application and U.S. immigration law matters.
- Family law: advising and assisting clients on their family law issues such as marriage, divorce, child custody, adoption, and will.
- Taxes: advising on tax compliance and on specific business transactions.
- Dispute resolution: advising on litigation and arbitration cases. Drafting legal memorandum and other necessary documents for submission to the judges and arbitrators.